NEW YORK (CNNMoney.com) -- As expected, Hewlett-Packard reported quarterly earnings and sales on Thursday that that strongly topped its year-ago results.
The Palo Alto, Calif., company said its net income for the third quarter, ended July 31, rose 6% to $1.8 billion, or 75 cents per share. Results included one-time charges totaling 33 cents per share, due to cost-cutting and acquisitions. Without the charges, HP said it earned $1.08 per share.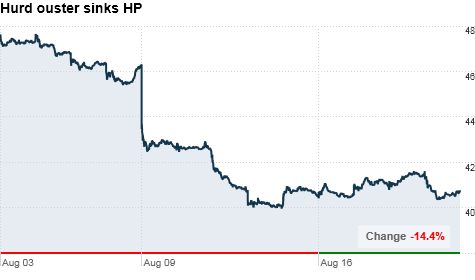 HP's quarterly sales rose 11% to $30.7 billion.
HP's report was identical to the preliminary one that the company announced on Aug. 6, the day that the tech giant said that CEO Mark Hurd would be stepping down. Those results had beaten Wall Street analysts' forecasts at the time.
Cathie Lesjak, the company's chief financial officer and interim CEO, spoke with investors on a conference call Thursday afternoon, but made no mention of the company's CEO succession plans.
HP's stock has fallen 12% since the ouster of Hurd, whose ability to reign in costs and grow earnings during his tenure pleased investors.
Making things worse for HP, leaks to news outlets from both Hurd's camp and the company's board have led to a "he said, she said," tabloid-like scandal that has made everyone involved look bad -- a situation HP is eager to move beyond.
HP's strong business outlook may help that cause. HP last week raised its guidance for the current quarter, as executives emphasized that Hurd's ouster had nothing to do with the company's finances.
In the past quarter, most of the company's growth came from strong sales of personal computers, servers and data storage devices, all of which grew by double digits over last year's revenue. Corporate PC sales grew 25%, signaling a beginning to the long-awaited refresh cycle for business customers' computers.
The call largely focused on the nitty-gritties of HP's business strategy, though one hotly anticipated tidbit emerged: The company plans on releasing a Windows-based tablet computer "in the near future" and a tablet that runs Palm's WebOS operating system early next year. HP completed its acquisition of Palm in July.
EDS, HP's IT services division, grew just 1% in the quarter. EDS' continued slow growth has been a source of disappointment to investors, who were told by Hurd and HP's leadership that the $14 billion acquisition would lead to a strong new revenue stream.
"People thought HP could take EDS and sell services to HP customers, growing the company," said Jane Snorek, technology analyst for First American Fund of Minneapolis. "But it hasn't grown at all. HP's new management will have to address that."
Overall, however, the quarter was another strong one for the world's largest technology company.
"The broad-based strength of HP's third-quarter performance further demonstrates the power of our strategy and the discipline of our execution," said Lesjak in a prepared statement.
Source URL