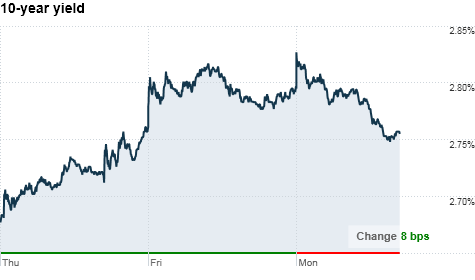 NEW YORK (CNNMoney.com) -- Treasury yields eased Monday as investors swung back into U.S. government bonds, reversing the momentum from last week's sharp sell-off that pushed yields to monthly highs.
Yields for Treasurys fell across the board on Monday. The yield on the benchmark 10-year note slipped to to 2.76%, from 2.80% late Friday. The 30-year bond slid to 3.85%, down from 3.87% Friday; the 2-year decreased to 0.54%; and the 5-year edged down to 1.53%. Prices and yields move in opposite directions.
"We're seeing a correction to the reaction we got last week, and a bit of bargain-hunting," said David Coard, head of fixed income trading at the Williams Capital Group, adding that the declines in prices last week make Treasurys more attractive.
Treasury yields charged higher last week, as better-than-expected economic news reduced concerns about a stalling recovery and a double-dip recession.
Coard cautioned that as the economy remains under pressure, treasury yields are likely to continue moving lower.
"The economy is still vulnerable and there is a lot of uncertainty involved," he said. "As long as that's the case, Treasurys will maintain decent demand."
Bond yields rising? Curb your enthusiasm
Coard said he believes the chance of a double-dip recession is higher than the market is currently preparing for, and expects that the 10-year yield will drop somewhere between 2% and 2.25% by the end of the year.
Since Treasurys are backed by the U.S. government, they are considered low-risk investments and are attractive during times of economic uncertainty. But when investors gain confidence in the economy, they typically shift away from save-haven assets and pour money into riskier assets -- like stocks.
"Last week's data revealed that although the economy is weak, it is not collapsing and that allowed investors to breathe a sigh of relief," Coard said.
Last week's $67 billion of debt sales also boosted Treasury yields.
Meanwhile, the bid for government debt Monday was also supported by the Federal Reserve Bank of New York's purchase of $3.4 billion in Treasury debt. The purchase is part of the Fed's plan to reinvest cash back into the bond market to help the economic recovery.
The bank said Monday that it plans to purchase about $27 billion in Treasurys through early October.
Source URL