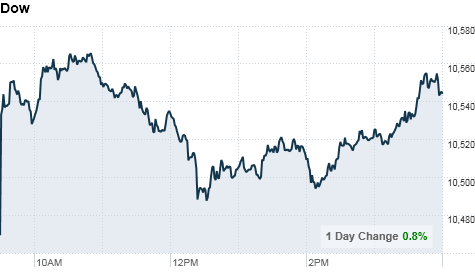 NEW YORK (CNNMoney.com) -- Stocks finished higher Monday as new global banking rules, upbeat economic data from China and some acquisition activity helped boost investor sentiment.
The Dow Jones industrial average (INDU) added 0.8% to end at 10,544.13. The S&P 500 (SPX) rose 1.1% to close at 1,121.90, and the Nasdaq (COMP) led the gains with a 1.9% jump to 2,285.71.
Markets around the world gained on news of the global banking agreement. The historic new reform will force financial institutions to more than double their capital reserves as a cushion protecting against future meltdowns.
Stocks posted modest gains in a light trading session Friday, as ongoing worries about the economy dampened enthusiasm over an increase in wholesale inventories.
Several economic reports are on tap for the week, and investors are also likely to focus on tax policy as lawmakers return from recess. Congress is expected to work on possible legislation to extend the Bush tax cuts.
Banking shares get a boost:
The bank reform came after top central bankers met in Basel, Switzerland, over the weekend. The new rules would require financial institutions to increase their core capital cushions to at least 4.5% of assets, up from the current 2%.
Banks will have until 2019 before the rules come into full force -- a longer timeline than some had predicted.
But that relief will likely be short-lived, said Steven Goldman, market strategist at Weeden & Co.
"This is more a help for overseas banks rather than the U.S.," Goldman said. "Our markets are riding global stocks higher today, but it won't be sustained."
Bank stocks rallied, and the KBW Bank Index (BKX) soared to close 3.1% higher.
Shares of JPMorgan Chase (JPM, Fortune 500), PNC Bank (PNC, Fortune 500) and BB&T (BBT, Fortune 500) also surged to end up about 3%. Shares of Marshall and Ilsley (MI), based in Milwaukee, leapt 4.5%.
Companies:
Hewlett-Packard (HPQ, Fortune 500) announced it has agreed to acquire cyber-security firm ArcSight (ARST) for $1.5 billion, or $43.50 per share -- a 24% premium over the stock's Friday closing price.
Shares of ArcSight surged to end 25.1% higher.
Rental car company Hertz Global Holdings (HTZ, Fortune 500) said Monday that it had raised its offer for Dollar Thrifty Automotive (DTG), to $50 per share, or $1.56 billion. Dollar Thrifty shares rose to close up 5.4%, while Hertz added 7.8%.
In April, Hertz originally offered to pay $1.2 billion to acquire its rival, but competing car rental company Avis (CAR, Fortune 500) later offered $1.36 billion for the company.
Genzyme said it will sell its genetic testing unit to Laboratory Corp. of America Holdings for $925 million. Last month, Sanofi-Aventis went public with an $18.5 billion cash offer for Genzyme, with the French firm hinting it may consider a hostile takeover if Genzyme refuses to talk.
Genzyme (GENZ, Fortune 500) shares closed down by almost 0.8%, while Laboratory Corp. (LH, Fortune 500) was fell almost 5%.
Xerox (XRX, Fortune 500) shares ended almost 8% higher after a favorable article in
Barron's
said chief executive Ursula Burns is rebranding the copier giant as a data-services provider.
Economy:
In a Saturday report, China reported stronger-than-expected growth in its industrial sector in August. Inflation in the country also accelerated last month, driven by rising food prices.
The data spurred China's central bank on Monday to set the yuan's daily reference rate at its highest level against the dollar since it scrapped its peg against the greenback in 2005.
China's inflation battle intensifies
New pressure has been building on China to let its currency increase in value. Treasury Secretary Timothy Geithner told
The Wall Street Journal
that
China's decision in June to end its peg to the dollar was an "important step ... but they've done very, very little ... in the interim."
The Treasury Department released August budget numbers, which showed a $90.5 billion deficit in the month, following a shortfall of $103.6 billion in July.
World markets:
The Basel bank reform helped European markets finish higher. The CAC 40 in France rose 1.1%, the DAX in Germany climbed 0.8% and Britain's FTSE 100 added 1.2%.
Asian markets ended higher. Japan's benchmark Nikkei index rose 0.9%, the Hang Seng in Hong Kong surged 1.9% and the Shanghai Composite ended 0.9% higher.
Currencies and commodities:
The dollar fell against the euro, the British pound and the Japanese yen.
Oil for October delivery rose 74 cents to settle at $77.19 a barrel after a leak forced officials to close a Chicago-area pipeline.
Gold for December delivery gained 60 cents to settle at $1,247.10 an ounce.
Bonds:
The yield on the 10-year Treasury note fell to 2.74% from 2.81% late Friday. Bond prices and yields move in opposite directions.
Source URL